Judy produces award-winning recordings for the Jewish market as well as the secular market. All recordings are appropriate for family listening. Lyrics to all of Judy's recordings can be found on the Lyrics page at this website.  Now you can listen to and order all of Judy's tapes, CDs & videos through secure credit card transactions right on this page.
You can also purchase and download Judy's music through a number of online music stores, or use our JudyMusic.com print-and-mail order form.
---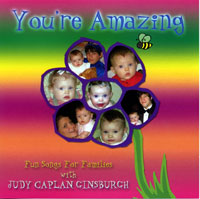 You're Amazing – Fun Songs for Families
Winner of a 2007 iParenting Media Award!
Fun, educational songs for children and their families. These catchy tunes will have you and your children singing along over and over again. Featuring songs about sharing, washing your hands, colors, opposites and books, You're Amazing is a winner.
---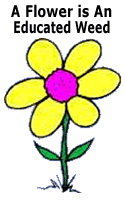 A Flower is An Educated Weed
Winner 2003 Childrens Music Web Award – Best Compilation for Preschoolers!
Over 40 pages of philosophies and ideas from Judy Caplan Ginsburgh about using music creatively as a vehicle to teach anything. Judy shares her suggestions for using music to discipline and transition and teaching children to be in control of themselves. Judy advocates positive discipline, taking care of yourself, being prepared and flexible at the same time and using music to make learning participatory and fun. Comes with all lyrics and a CD containing all songs mentioned in the book.
---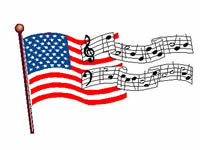 Musical America
Musical America is designed especially for elementary school teachers and their students — great for home schooling too! The book/CD set features facts about America's history and uses the songs that came from important periods of our history to teach. The book is a study guide containing lyrics to all songs, and interesting and fun facts about America's history from Native America through the peace movement. The CD was recorded live at a performance and features Judy Caplan Ginsburgh and David Marler performing 15 songs that will make learning American history memorable and enjoyable.  Musical America has been performed in over 200 schools throughout the US!
---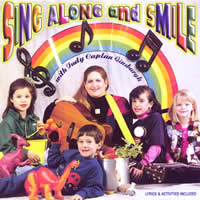 Sing Along and Smile
Winner of the National Parenting Center Seal of Approval! Children's Music Web Finalist! Songs for young children that promote learning, self esteem, and values.
"This fun filled (recording) features an uplifting series of educational messages that are easy to listen to….parents felt they could listen to this tape in their car (over and over) without losing their minds — no small feat when it comes to car audio tapes!"
Lyrics included! Available long-playing CD format (CD contains all of the songs from "Sing Along With Judy" and "Smile" – 29 songs in all!).
---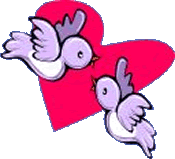 From Cabarets to Broadway
A new recording featuring Judy singing love songs from some of your favorite Broadway shows and movies. Recorded live in October, 2003 with piano accompaniment by Dan Hill. The CD features 20 songs in all including As Time Goes By; My Funny Valentine; Somewhere Over the Rainbow; Send in the Clowns; Memory; The Rose and much more! Order now!