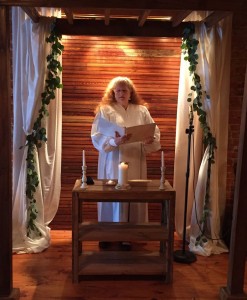 I have just created a website for my Rabbinic offerings. You can find the site at Rabbi Judy's website
About Rabbi Judy

In Jan., 2014, after almost 30 years of study, I received my rabbinic ordination from the Jewish Spiritual Leaders Institute (JSLI) in New York. JSLI is a rabbinic program that takes life experience into account (and I had plenty of that). I studied with 16 other candidates in a virtual classroom online, met other requirements and completed a thesis titled "Nurturing Our Souls" prior to ordination.
JSLI stresses training for real life situations (weddings, funerals, worship services, visiting the sick, etc.) and advocates inclusion of all, especially interfaith families and the unaffiliated.
I am currently serving Temple B'nai Israel in Monroe, LA as their part-time Rabbi. I am also available to travel to your community to provide music or to serve as Rabbi, Kol Bo or Spiritual Leader for your Jewish service or event. I specialize in making life cycle events and worship services meaningful and special. From Tot Shabbat to weddings, Bar/Bat Mitzvah, worship and holiday services, funerals and unveilings, I am available to serve. I hope you will call on me for a special occasion in your life or the life of your congregation. I am happy to send audio samples of music or written samples of sermons.
You can email me at: judy@rabbijudymusic.com
Below are some helpful links that I enjoy:
UJUC – Home of Union of Universalist Jewish Communities of which I am a member.
UJUC
Sim Shalom – an online synagogue which offers Maariv (evening) services M-Th and Shabbat services every Friday night. Tune in for free.
Sim Shalom Online Synagogue
My Jewish Learning – a great website with all sorts of helpful information about all things Jewish.
My Jewish Learning